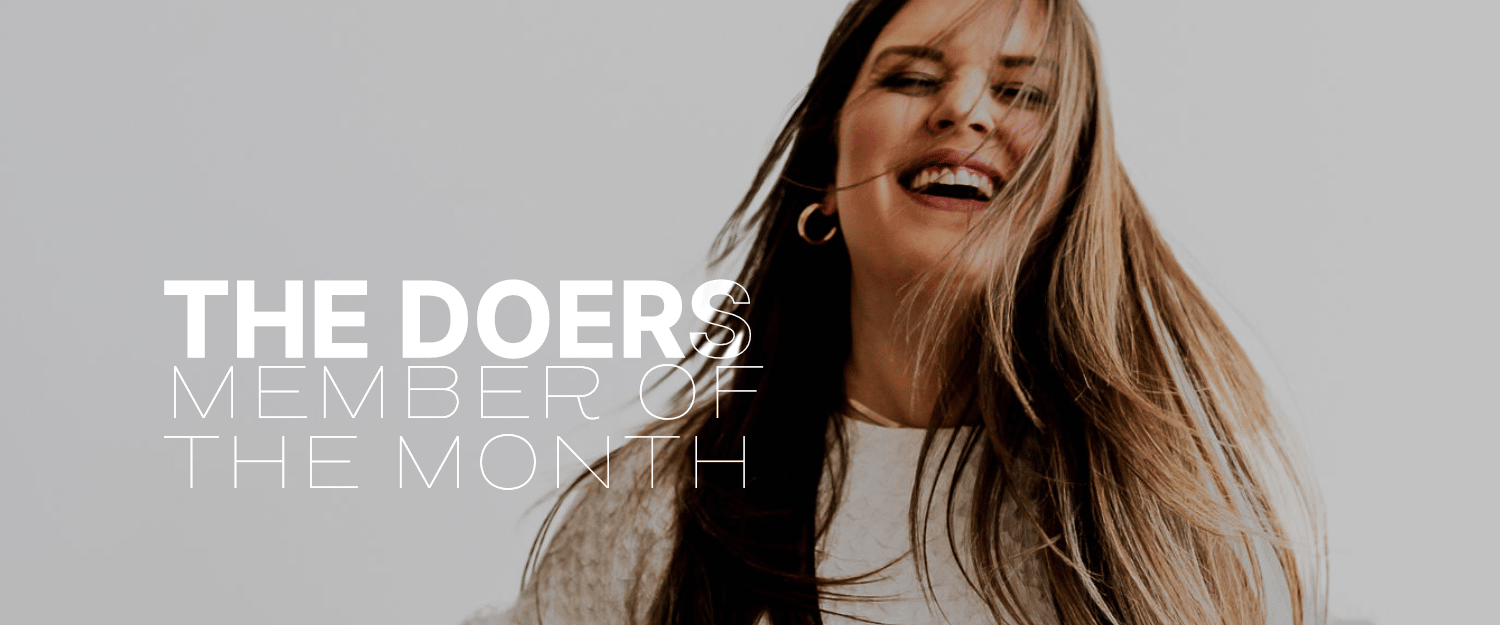 The Doers Member of the Month emails are chosen at random from members of our membership The Doers, where we share tons of daily business tips and inspiration as well as provide a resource library of 55+ downloads, templates, exercises and more.
We began this series because we realized we have the coolest members ever.
We could do what other people do and charge $$$ for them to be exposed to our audience and for you to learn about their services, or … we could just celebrate them because they deserve it?! Seems obvious to me.
Shoutout to Antigone, our April member of the month – we hope you enjoy this series!
Meet Rachel from Find Your Magic
May Member of the Month – Letter from Ashli:
I have no idea how to describe my love for this woman. We have some weird tie to each other
Fun fact about our girl Rachel here – she was one of the first people to join The Do-ers when I opened doors to the public and I was nervous about how someone new would mesh with the group! Turns out, there's nobody more kind, more supportive, and as smart and ambitious as her. Rachel knows her sh*t and I'm excited to see how much she's grown in the last year (how has it been that long!!!) and how she's only just begun. She runs a business super well and as someone who watches from afar while guiding on the day-to-day, I respect what she's doing, and how she's leading. Kudos to you Rachel – stay exactly as wonderful as you are please!!!
What first got you started in running your business?
I had spent around 8ish years in corporate doing all the things in the marketing sphere – events, email marketing, automation, analytics, you name it. I started to notice a recurring note from my managers and department leads – "this is just how we've always done it", "this is what's worked in the past", "that's a great idea, but let's table that for next quarter". It was the most frustrating feeling in the world. Finally, my manager sat me down and told me "Your ideas are too big for here." In that moment, I knew I'd eventually go out on my own and build my business. Fast forward to Jan 2020, after doing 2 years of contract work and freelance projects, I finally took the leap and put a name to the business.
What is your niche, and why are you super passionate about it?
Gal Marketing was created for heart-driven, intentional business owners who want sustainable marketing that feels good to them. In all aspects of life, I truly believe intention is everything. Especially, when it comes to how you market your business. If I can support just one business to avoid burnout, get off of the algorithm hamster wheel and create a sustainable marketing system – then I've done my job!
If you could give one piece of advice over and over, what would it be?
Always ask yourself "how does this feel?". With launches, with clients, and with every single thing you put your energy towards in business. If it does not feel good, it won't be sustainable.
What was a lesson you learned in business that was hardest for you to learn? And what did you take away from that?
Oooof, I'm still actively learning this lesson, but definitely to trust myself.
​
In my few two years of business, I felt like there was always searching for some secret or key I was missing. After a few mediocre investments that always came back with "I already knew that", I stopped investing and started listening to my own business. ​
​
Ideas started to bubble up after I quieted the noise. Good ideas too. I leaned into that, continued to ask myself "how does this feel", and used that as the compass for my business.
Tell us about a time where you realized how much you were capable of.
I realize this when I replaced my corporate salary within the first 6 months in business while working with some of my favorite clients to date. I was scared going into business (yk, worldwide panini going on and all that) and worried that I may have bit off a bit more than I can chew. But after getting a few dreamy clients right off the bat, I was helping them grow their email lists and supporting their business goal, it felt like the most aligned I have felt in all 8 years of corporate. I knew that I was exactly where I was supposed to be and who I was supposed to be helping.
What's your go to product/service and where can we find more about it?
This is a new service, but definitely a favorite in my long-term client strategies. The Quarterly Email Strategy Roadmap. This is project delivers you a custom plan designed to boost engagement, grow your email list, and ensure you are attracting the right people to your email list. You'll walk away with a 90-day Marketing Plan, a Full Platform Audit, a Testing + Analytics strategy, and Newsletter Strategy.
What would you say to someone interested in working with you?
Whether you are ready to dip your toe in the email marketing waters with a list growth plan or dive into a full on customer journey strategy, let's make your email list work for you! I'm ready to create your strategy that supports your energy AND your business goals!
---
Want to be the next Member of the Month inside The Doers?
 Join The Doers  to gain access to 70+ business exercises/worksheets/templates relating to marketing sales and planning, monthly Canva templates for social media, weekly virtual coworking space, office hours w/ Ashli, Slack community for daily on demand advice, exclusive discounts and offers, and so much more! The MOTM is chosen each month from our #wins channel of the Slack community – celebrating those who are investing in themselves and contributing to the group. Place your own win in Slack and you too can have an email/blog post/IG Post dedicated to you and your business!