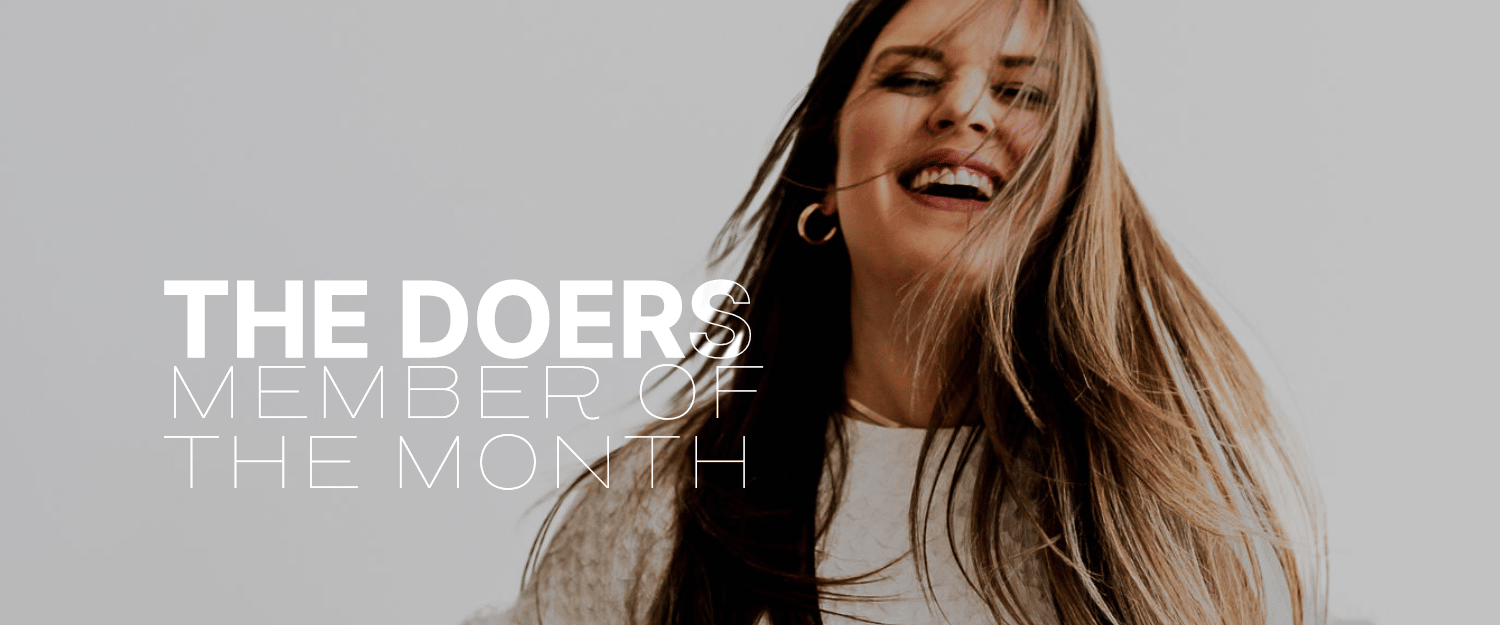 The Doers Member of the Month emails are chosen at random from members of our membership The Doers, where we share tons of daily business tips and inspiration as well as provide a resource library of 55+ downloads, templates, exercises and more.
We began this series because we realized we have the coolest members ever.
We could do what other people do and charge $$$ for them to be exposed to our audience and for you to learn about their services, or … we could just celebrate them because they deserve it?! Seems obvious to me.
Shoutout to Antigone, our April member of the month – we hope you enjoy this series!
Meet Antigone from Find Your Magic
April Member of the Month – Letter from Ashli:
I have no idea how to describe my love for this woman. We have some weird tie to each other that makes us strangely similar in the oddest ways but she also has been such a helpful guide in understanding how my astrology affects my life, my business, my understanding of myself and more. She's incredibly skilled and hardworking – a true renaissance woman. She's multi passionate for a reason – she's pretty much great at everything. But on top of that? My goodness is she kind. She even coordinated that the entire community of The Doers create a birthday gift for me without my knowing – like what!! She's so sweet. It's been incredible to see her grow and I can't wait to see what else she does. xx Ashli
Click here to follow Antigone on IG
What first got you started in running your business?
I feel like I've been "unofficially" doing this work my whole life. I'm the go-to person in all my relationships for relationship advice, life logistics, birth and death logistics, spiritual crisis management, parent-child drama, you name it! I just never thought I could make a living from this set of gifts. When the pandemic hit in 2020 it found me completely burnt out by my 10-year career in events. I decided it was a now-or-never kind of moment so I went for it! There was a previous iteration of this business where I learned a lot and I've pivoted more than a few times. Now, it finally feels like I'm living out my purpose! And I want to support others in feeling this way.
What is your niche, and why are you super passionate about it?
Intuitive-spiritual life coaching. It's very multifaceted because each person is different. I'm super passionate about it because so much of the human experience is shared but each person goes through it differently. I am amazed at the capacity for growth we all have, the capacity to self-actualize. It's not easy but being a loving witness to someone's transformation is so rewarding! I also love the fact that I get to combine all my seemingly disparate modalities to offer a truly custom experience to each client.
If you could give one piece of advice over and over, what would it be?
The life you most desire will require transformation. It will feel like dying but it's 100% worth it.
What was a lesson you learned in business that was hardest for you to learn? And what did you take away from that?
Failure is a necessary part of success. I tried to be like everyone else in my space, fearing the impending failure and trying to copy a recipe that I thought worked. GUESS WHAT! You can't fake yourself. I shut down the first version of my business and combated feelings of failure like no other. Now, a year later, I can 100% tell you it was the most helpful thing I've done.
Tell us about a time where you realized how much you were capable of.
This is going to get a little dark but I lost someone who was very important to me when I was in my early 20s, in a tragic and sudden accident. It took a decade of going through life making bad decisions, in total survival mode, codependency, addiction, abuse, before I started confronting the immensity of the grief I was carrying. When I look back to that time and see how different of a person I am, it's mind-blowing. I'm simultaneously 100% different and exactly the same. I'm so proud of myself for the transformation and the fact I went from "surviving" to "thriving".
What's your go to product/service and where can we find more about it?
Make Your Magic – $650 per month
TWO 1:1 90 min coaching calls PER MONTH (3 month package) where we reveal your highest priorities for the next 3 months and an action plan on how to realize your dreams (plus Slack access for our time together)
WHAT'S INCLUDED:
– FULL access to me via Slack (includes huddles, vms, messages, etc)
– ASTROLOGY & HUMAN DESIGN CHART ANALYSIS and how to best work with it
– HOMEWORK assignments to analyze priorities and blockages
– Ongoing SPIRIT GUIDE check in and guidance
– CUSTOM RITUALS & PRACTICES to support your personal growth
What would you say to someone interested in working with you?
Let's find your magic! I will hold you in fierce compassion, accountability, and with zero judgement, while you become an active leader in the life you born to live.
---
Want to be the next Member of the Month inside The Doers?
Join The Doers to gain access to 55+ business exercises/worksheets/templates relating to marketing sales and planning, monthly Canva templates for social media, weekly virtual coworking space, office hours w/ Ashli, Slack community for daily on demand advice, exclusive discounts and offers, and so much more! The MOTM is chosen each month from our #wins channel of the Slack community – celebrating those who are investing in themselves and contributing to the group. Place your own win in Slack and you too can have an email/blog post/IG Post dedicated to you and your business!