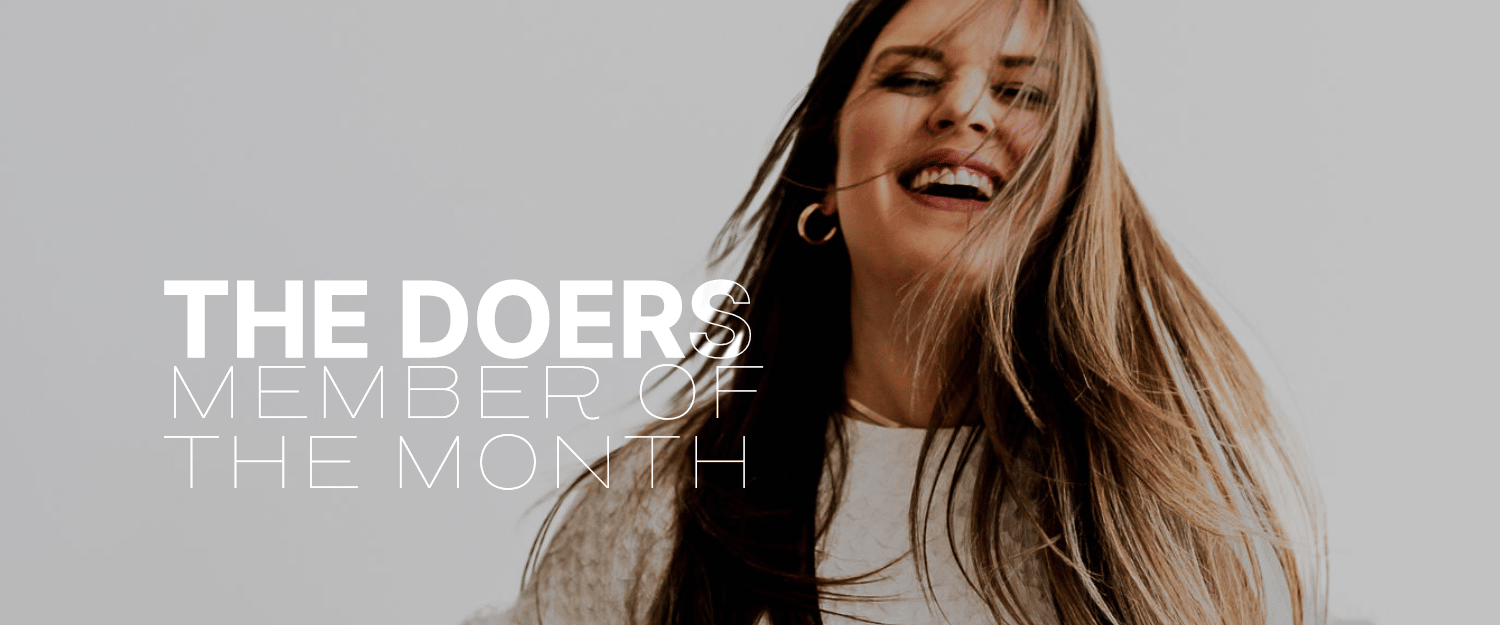 The Doers Member of the Month emails are chosen at random from members of our membership The Doers, where we share tons of daily business tips and inspiration as well as provide a resource library of 55+ downloads, templates, exercises and more.
We began this series because we realized we have the coolest members ever.
We could do what other people do and charge $$$ for them to be exposed to our audience and for you to learn about their services, or … we could just celebrate them because they deserve it?! Seems obvious to me.
Shoutout to Kate, our March member of the month – we hope you enjoy this series!
Meet Kate from Wonderwell Creative
March Member of the Month – Letter from Ashli:
Ugh where do I start with this gem? Kate is such an artist to her core and brings such a beautiful loving energy to The Doers while also challenging herself to continue growing as CEO of her business. Kate started with me in Square One Accelerator back in 2021 and was one of the founding members of The Do-ers. She's stayed in my space going from unorganized and unsure of how to grow, to now running a yoga/wellness portal that she sells to corporate companies for employee access as a benefit to their business, but also runs a group program The Wonderwell that helps artists grow in their craft. Kate's the kind of woman who continues to inspire me with how she loves and infuses humanity into her business. A true living embodiment of an ideal client. And her growth? Astounding. I can't believe howwwww muchhhh she's done in 2 years and can't wait to see what more is in the pipeline. One of the most wonderful people I've come to know <3 I know you'll love her as well. xx Ashli
What first got you started in running your business?
Honestly, people just kept calling me! I sort of became known in my community as a "Creative Doula" someone you called when you needed support in birthing a creative project. I would share the raw and real BTS of my life, on IG, as I was working in film, television, theatre, and music, and also producing my own independent creative work on the side. I think people saw the amount of creative work I was releasing… and they genuinely wanted to know how I was doing it.
I'd find myself on these hour-long phone calls with folks who were hitting a wall, feeling disconnected from their body, struggling to find inspiration, or feeling scared to put their work out there. I would listen deeply, and then offer them reflections, guidance, and suggestions for practical steps forward. Not long after our chat, I'd see them out in the world, shining their light and sharing their gifts. (swoon!)
I found a special alchemy in bridging the worlds of wellness and creative expression and so I built a whole company around it! I have an extensive background in yoga, meditation, and embodiment work. These holistic practices are the foundation that supports me as a human and as a creator, and I love sharing these practical (and magical!) tools with all who are curious about leading a more peaceful, passionate, and purposeful life.
What is your niche, and why are you super passionate about it?
Embodied. Creative. Wellness. It's all about the body for me.
I help humans, artists, innovators, and leaders reconnect with the intelligence of their bodies, and discover their own unique creative process to create their body of work.
I teach something called "The Creative Cycle" where I guide you to approach your work in a seasonal and nature-based way.
I created this framework because, quite frankly, I needed it. My desire to create and achieve is insatiable. But going fast, and going alone was isolating and depressing. When I opened up to a more holistic approach to my own creative work, and began sharing it with others, my life got a lot richer and more joyful.
I believe that the call to create is a sacred one. Whether you're creating a business, a family, a piece of legislation, a garden, a curriculum, or a work of art, you deserve to feel supported, connected, and celebrated.
If you could give one piece of advice over and over, what would it be?
Your genuine curiosity is the most important thing you can cultivate.
It took me about a decade to "recover" from art school. I was so focused on getting a good grade, and pleasing my teachers, that I totally forgot to ask the essential questions:
"What do I really care about?"
"What is actually interesting to me?"
"How do I want to push my art form forward?"
"What conversation do I want to start through my art"
The iconic writer, Ursula Leguin, writes, "The creative adult is the child that survived."
If you're in a field where it seems like everyone is making the same thing, and talking about the same stuff… it might be time for you to stop looking outward for inspiration, and start looking inward.
There are many pathways that lead to the center of the heart. I know a few, and would love to share them with you.
What was a lesson you learned in business that was hardest for you to learn? And what did you take away from that?
I'm gonna get real with you. I hated math. Was afraid of money. Made all of my decisions based off of my emotions.. and thought marketing was icky. I had to grow out of my "starving artist" mentality and open to the possibility that I could be deeply and richly supported in my life and creative work. (Sheesh! This work is not for the faint of heart… and it's still an ongoing process)
Working with Ashli was a game changer for me. She helped me take the wild and intuitive aspects of my work, and create structures to serve my clients better, and introduce my services to a wider web of creators, change makers, and culture shifters.
I now have ways to share my work that feel aligned, authentic, and deeply reciprocal. I'm so proud of what I've learned and integrated in the realm of business over the last few years but the end of the day, my focus will always be on the impact of my work. There's no greater reward than seeing one of my clients liberate into a fuller and more authentic expression of their being. *Chef's Kiss*
I just wanna see you shine.
Tell us about a time where you realized how much you were capable of.
My work really took off in the pandemic. When folks literally couldn't go outside, they started looking for a guide to help them go inward.
I was ready. And my doors FLEW OPEN.
I officially launched wonderwell creative in January of 2021 and in three years time I have worked with over 150 Artists, built a Creative Wellness App, and served as a Wellness Event Creator + Meditation Facilitator for some of the most innovative companies out there.
Wonderwell is absolutely a co-creation between me, my community, and the Universe. But the day-to-day operations have mostly been a one woman show over here. The branding, website, content, curriculum, social media, tech, backend, accounting, sales, marketing, email, editing… it's all me!
When I look at everything I've created, I am in awe. Not just the tangible aspects of the business, but the connections that people have made here. The relationships. The breakthroughs. The seismic shifts. The transformation. The healing. It's absolutely exhilarating to create something that has become such a positive force in the world in such a dark time. We're just getting started!
What's your go to product/service and where can we find more about it?
Well depending on where you're at in your creative journey, I've got something for everyone.
I serve a spectrum of humanity: from folks who wanna deepen their mind+body connection, to budding creatives, to established artists pushing their work forward, to visionary companies who are centering care and community in the workplace. I've got you. Head to our website and follow your curiosity.
A great way for you to get a general introduction to my work, is to check out my FREE 10-Day Program: THE WONDERFUL TEN . Access The Wonder Body in 10mins a Day. Nourish your body, open your mind, and get inspired to make living an art. Hosted The Wonderwell Embodiment Studio App. You'll have the whole month to explore everything that the Wonderwell Embodiment Studio has to offer, as my gift to you. Enjoy!
What would you say to someone interested in working with you?
I wanna tell you that it's about to get really GOOD. With a few simple and practices and tools your creativity is about to skyrocket. The world is ready. Your voice is necessary. Let's make some magic happen.
---
Want to be the next Member of the Month inside The Doers?
Join The Doers to gain access to 55+ business exercises/worksheets/templates relating to marketing sales and planning, monthly Canva templates for social media, weekly virtual coworking space, office hours w/ Ashli, Slack community for daily on demand advice, exclusive discounts and offers, and so much more! The MOTM is chosen each month from our #wins channel of the Slack community – celebrating those who are investing in themselves and contributing to the group. Place your own win in Slack and you too can have an email/blog post/IG Post dedicated to you and your business!